Description
Pelvic Stabilizers
Aid alignment and symmetry.
Appropriate for users who have difficulty staying centered in walkers.
Fit all current Kaye Posture Control Walkers, PostureRest Walkers and Red Walkers..
Can combine with Extensor Assist Center Pads.
To attach these to older walkers, you will have to drill two holes in the walkers. The instructions detail this procedure.
Cushion height for all three models: 3.5″.
Cushion length for all three models: 5.75″.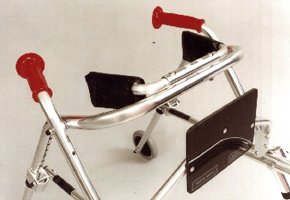 PS2H Pelvic Stabilizer on a W2HR walker.
PS2H Pelvic Stabilizer and the Extensor Assist Center Pad on a W2BR walker.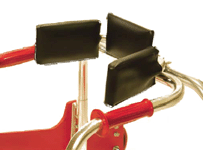 PS2H and EA2 on RF-A
See the accompanying chart for model numbers and sizes.
Pelvic Stabilizer Model
Width Between Cushions
Combines with


Center Pad

Model
Fits Walker Models
(fits all wheel configurations)
PS2H
8.5″ to 11.5″
EA2
(3 1/2″ h x 6″ w)
RF-A, RF-B, W1/2B, W1/2BH, W1B, W1BH, W2B, W2H
PS3H
11.5″ to 14.5″
EA3
(3 1/2″ h x 9″ w)
R2B, W3B, W3H, W4B
PS4H
14.5″ to 17.5″
EA3
(3 1/2″ h x 9″ w)
R3B, R4B, W4H, W5HR
Related products:
Reviews
There are yet no reviews for this product.